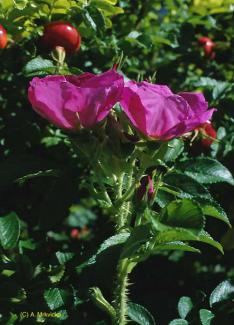 Other names
beach rose
Japanese rose
Kartoffel-Rose
Classified as invasive in
Germany
Norway
Sweden
The Netherlands
Sources
Gederaas L., Moen T.L., Skjelseth S., Larsen L.K. (2012): Alien species in Norway – with the Norwegian Black List 2012. The Norwegian Biodiversity Information Centre, Norway.
Tyler T., Karlsson T., Milberg P., Sahlin U., Sundberg S. (2015): Invasive plant species in the Swedish flora: developing criteria and definitions, and assessing the invasiveness of individual taxa. Nordic Journal of Botany 33, 300–317.
Bruun H.H. (2005): Biological Flora of the British Isles No. 239 – Rosa rugosa Thunb. ex Murray. Journal of Ecology 93, 441–470.