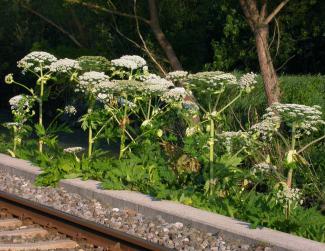 Other names
giant hogweed
Riesenbärenklau
This plant is listed in EU regulation No 1143/2014
Classified as invasive in
Austria
Germany
Ireland
Norway
Sweden
The Netherlands
Heracleum mantegazzianum is a herbaceous biennial or monocarpic perennial native to Russia and Georgia (Caucasus). It has spread rapidly in a number of European countries after introduction as an ornamental plant. The species is a prolific seed producer and its vigorous growth leads to changes in vegetation. It causes dermatitis when it is handled in bright sunlight. It invades a variety of habitat types, especially roadsides but also river banks, railway tracks, woodland edges, and ruderal sites such as rubbish dumps and waste ground.
Sources
Pyšek P, Cock MJW, Nentwig, W, Ravn, HP (2007): Ecology and management of giant hogweed (Heracleum mantegazzianum). Cabi Publishing.
Essl F. (2006): Bemerkenswerte floristische Funde aus Wien, Niederösterreich, dem Burgenland und der Steiermark, Teil IV. Linzer biologische Beiträge 38, 1071–1103.
Gederaas L., Moen T.L., Skjelseth S., Larsen L.K. (2012): Alien species in Norway – with the Norwegian Black List 2012. The Norwegian Biodiversity Information Centre, Norway.
Wissman J., Norlin K., Lennartsson T. (2015): Invasiva arter i infrastruktur. CBM:s skriftserie 98.